13 janvier 2006
5
13
/

01
/

janvier
/

2006
23:05
Pop-rock 2005 - Wagram / le village vert ****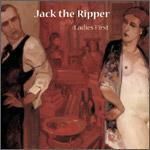 Ne vous fiez pas à leur nom, Jack the Ripper n'est pas un groupe de metal bourrin moulé dans le cuir et jouant à 200 à l'heure pour masquer un manque total d'imagination et de musicalité. Bien au contraire.
C'est un groupe français qui… ne ressemble en rien aux autres groupes français. Difficile d'ailleurs de deviner leur origine, mis à part quelques légères intonations. Mais ceci excepté, c'est un groupe plus britannique que la reine d'Angleterre. Des ambiances très " fin XIXè ", d'un groupe dandy et gothique, sombre et lyrique, aérien et raffiné. Qui aurait beaucoup lu Byron, Baudelaire, Poe, Bram Stoker et Oscar Wilde. Ce n'est pas Jack l'éventreur qui les intéresse tant que ça, mais plutôt le cadre et l'époque de l'affaire…
Les ambiances sont ainsi particulièrement travaillées et captivantes, le chant est magnifique (autant la voix que les mélodies, tous deux très inspirés), accompagné, et c'est la cerise dans le verre d'absinthe, non pas par des types qui gratouillent leurs guitares ou maltraitent bêtement leurs batteries mais par… des musiciens ! Pas si fréquent que cela de tomber sur un groupe pop-rock ou l'accompagnement ne s'entend pas dans le sens de suivre bêtement, mais de " voyager en compagnie ".
Si la musique était une femme, la production musicale française serait majoritairement composée de vieilles putains surmaquillées, vulgaires et n'hésitant pas à prendre les poses les plus obscènes pour racoler à tout va, avec quelques institutrices psycho-rigides et des filles aux cheveux gras refusant de laisser transparaitre une quelconque féminité. Parmi celles qui ne rentrent pas dans ces catégories peu reluisantes, Jack the ripper serait la jeune femme belle, élégante, sensuelle, sombre et subtile, au regard fascinant de tristesse inconsolable, de romantisme et d'indépendance farouche.
Un extrait de l'album à écouter (avec l'aimable autorisation du groupe) : Old Stars
D'autres titres en écoute sur myspace.
Site du groupe : http://jack.ripper.free.fr/
Chronique d'un concert
Jack the Ripper - Ladies first

01. From my veins to the sea
02. I used to be a charming prince
03. Goin' down
04. White men in black
05. I was born a cancer
06. Old stars
07. Vargtimmen
08. The Apemen, the bride and the buterfly
09. Aleister
10. Hungerstrike at the supermarket
11. Hush